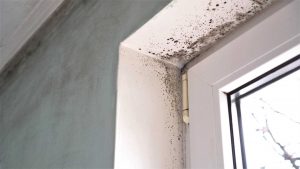 If, for any reason, there has been excess moisture in your home or business it is a good time for a mold inspection. Perhaps because of a small roof leak, leaking pipes, or a faulty air conditioner, you have noticed a damp smell or even discoloration in the areas of moisture.  These are cause for concern, indicating a possible mold infestation. Mold is toxic.  Depending on sensitivities, it can be deadly.  Highly skilled professionals like the team at SERVPRO of West Pensacola can carry out detailed mold remediation in your home without delay.
What Is Mold Remediation?
Mold Remediation is the process of identifying the causes of mold growth in your home, removal of existing mold, and implementation strategies that ensure that mold cannot sprout again.
Cleaning mold with residential chemicals and making it invisible to the naked eye isn't a remedy.  Out of sight, out of mind isn't always the best policy. Mold continues to be dangerous even when it can't be seen. If you live in Pensacola or the surrounding areas, our highly-acclaimed team of mold remediation experts can keep your home safe and mold-free.
Do I Really Need Mold Remediation
Services?
Mold will sprout and spread very quickly in proper conditions. Living in the south near water makes our homes especially susceptible to mold growth.  If there is humidity, darkness, and oxygen you have a prime mold growing area.  Mold is devastating to the value of your property.  It is unsafe for you, your family, and your pets.  Mold remediation is invaluable in a home situation.  Call our professionals at the first sign or smell of mold.  Mold is invasive.  Mold is toxic.  Mold can be removed.  Call our professionals.
What Will The
Mold Remediation Process
Entail?
As local mold remediation experts, we have serviced many homes in the panhandle.  Being locally owned we know the area.  We know the conditions.  We know the business of mold removal.  
Upon calling in our team, we will:
Inspect your home to identify the source of the problem leading to mold

Take the proper steps to ensure that mold can no longer thrive in your space

Remove the existing mold and purify the air in your home, keeping you and your loved

ones protected from the effects of mold spores

Clean any of your possessions that may have been exposed to mold spores

Offer advice on how to avoid mold growth in the future
Reasons You Should Choose SERVPRO of West Pensacola As Your
Mold Remediation Contractor
At SERVPRO, we pride ourselves on our efficiency and effectiveness when serving our clients. The high ratings from our clients for our exemplary mold removal services are a testament to the quality work we do. To thoroughly rid your Pensacola area property of mold, our highly trained team will rely on the most effective mold remediation products as well as professional techniques. 
Mold can be quite dangerous. In extreme cases, if left unchecked, it can lead to health complications that kill. Keep yourself and your loved ones safe by getting mold remediation services from our team. Simply call us today.